An independent School for autistic children aged 4-19
Jigsaw CABAS® School is an independent day school for autistic children and young people.
Jigsaw CABAS School is rated "Outstanding" by Ofsted.
The School is a positive environment with expert and dedicated staff delivering individualised curriculum focused on promoting effective learning, the ability to learn in new ways and to learn independently.
Jigsaw ensures the best outcomes possible enabling all our pupils reach their full potential both at school and at home.
"The kind of school that most parents searching for an autism school can only dream of…"
The Good Schools Guide 2015
Placements are welcomed from a wide range of Local Authorities across the Home Counties.  We currently have pupils from Surrey, West Sussex, Hampshire, Sutton and Kingston amongst others.   Providing places for up to 80 children aged 4 – 19 we can accept pupils across all Key Stages throughout the school year.  The School operates for 43 weeks per year divided into three terms.
Open Mornings are run throughout the year for anyone interested in visiting and learning more about Jigsaw School
– click HERE for details of our next event.
"Mankind owes to the child the best it has to give"
United Nations Declaration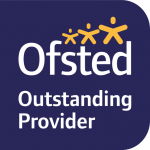 Quicklink to Ofsted's Parent View pages.
  Jigsaw CABAS School is supported by Jigsaw Trust, a UK registered charity.